Bring the magic and brilliance of special effects to your table with our new Dwarven Light Puck. This compact LED matrix comes pre-loaded with 25+ light sequences that you control from your phone. Use it to animate magical pools and portals, or trigger special narrative effects based on the actions of your players. Line up multiple Pucks to add another dimension to your story and teleport the table into a new world!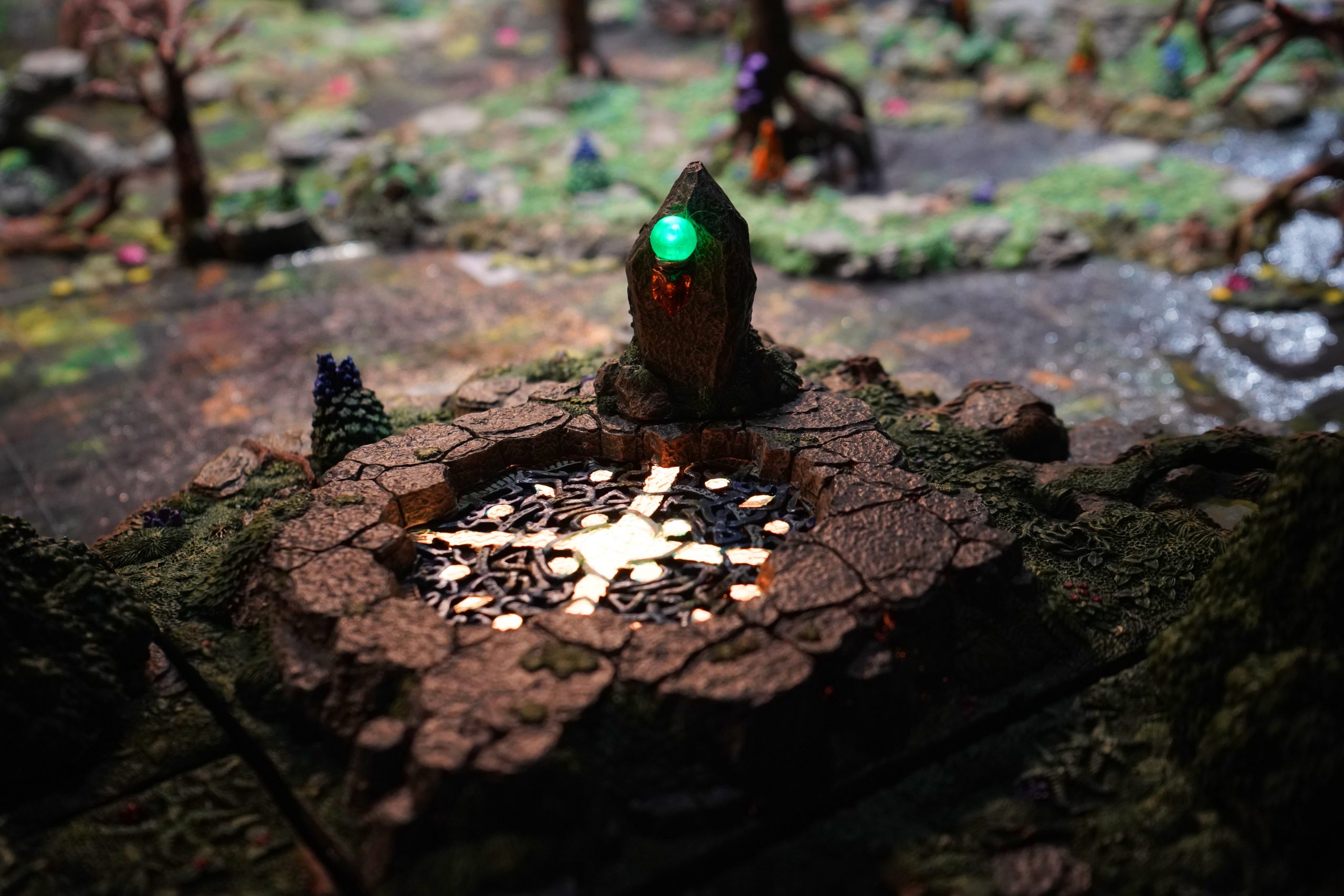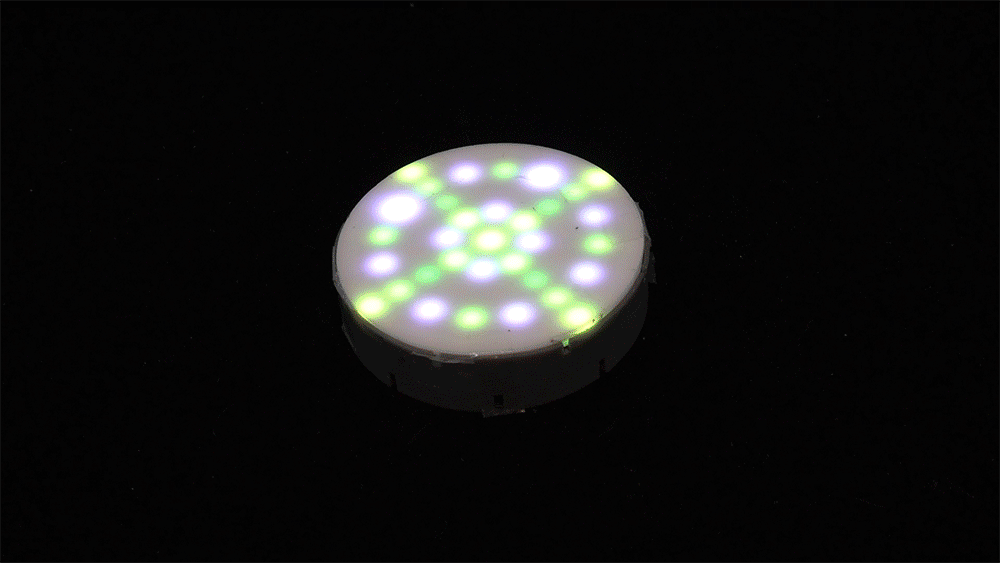 Compact Size
The Dwarven Light Puck is a round disc, sleekly designed to nestle horizontally or vertically within compatible Dwarvenite pieces. The puck itself fits flush to give a nearly invisible feel while in the build, except for its dazzling light sequences.
LED Magic
61 addressable LEDs are now at your fingertips to create a dazzling array of light sequence effects—fire and lava flow, glowing auras, lightning strikes, swirling vortexes—a spectrum of possibilities awaits!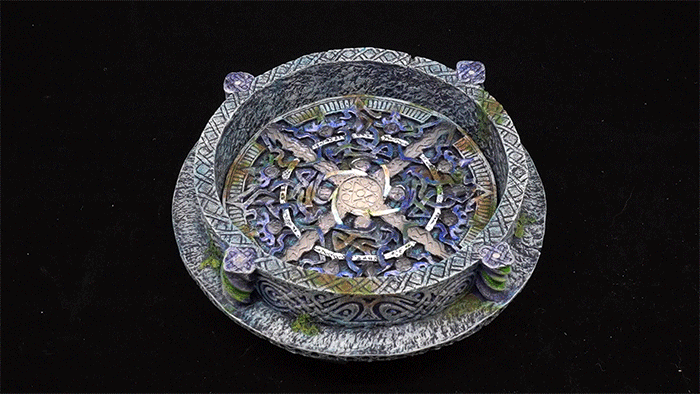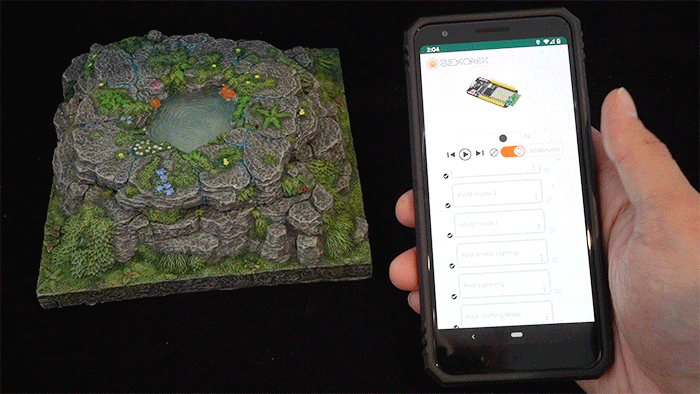 Bluetooth Controllable
Special effects in the palm of your hand. Activate, deactivate, and seamlessly change light sequences any time during a game, all controlled from your mobile device.
Wildlands Compatible
Builds take on a whole new meaning when you combine the Light Puck with specially-sculpted Wildlands thematic pieces! Pair it with the horrific Oblivion Nexus, or the sparkling Fae Wellspring atop the wondrous Hole Knoll, it makes showpieces positively glow and narrative objectives shine.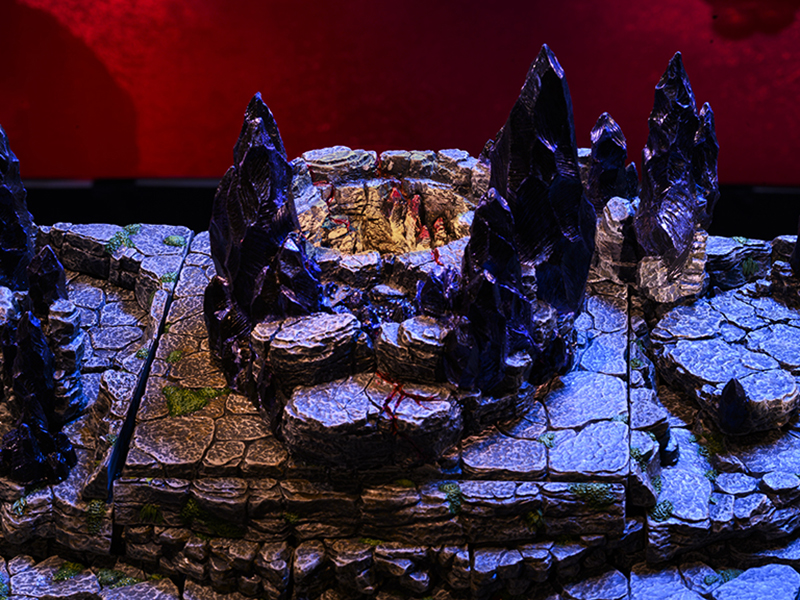 Backwards Compatibility
Already have previous toppers or thematic pieces from our past products? Perfect! The Puck has several options from our previous selections that go well with its design. Set shimmering pools of rippled fluids on top, or glowing runes of power, or spellbinding Fae portals, it's a great option for anyone looking to spice up their collection.
Multiply Your Fun
Need more than one teleportation disk, demonic summoning zone, or phantasmal objective in one game setting? You can have that and more with multiple Dwarven Light Pucks, all independently controlled from ONE mobile device.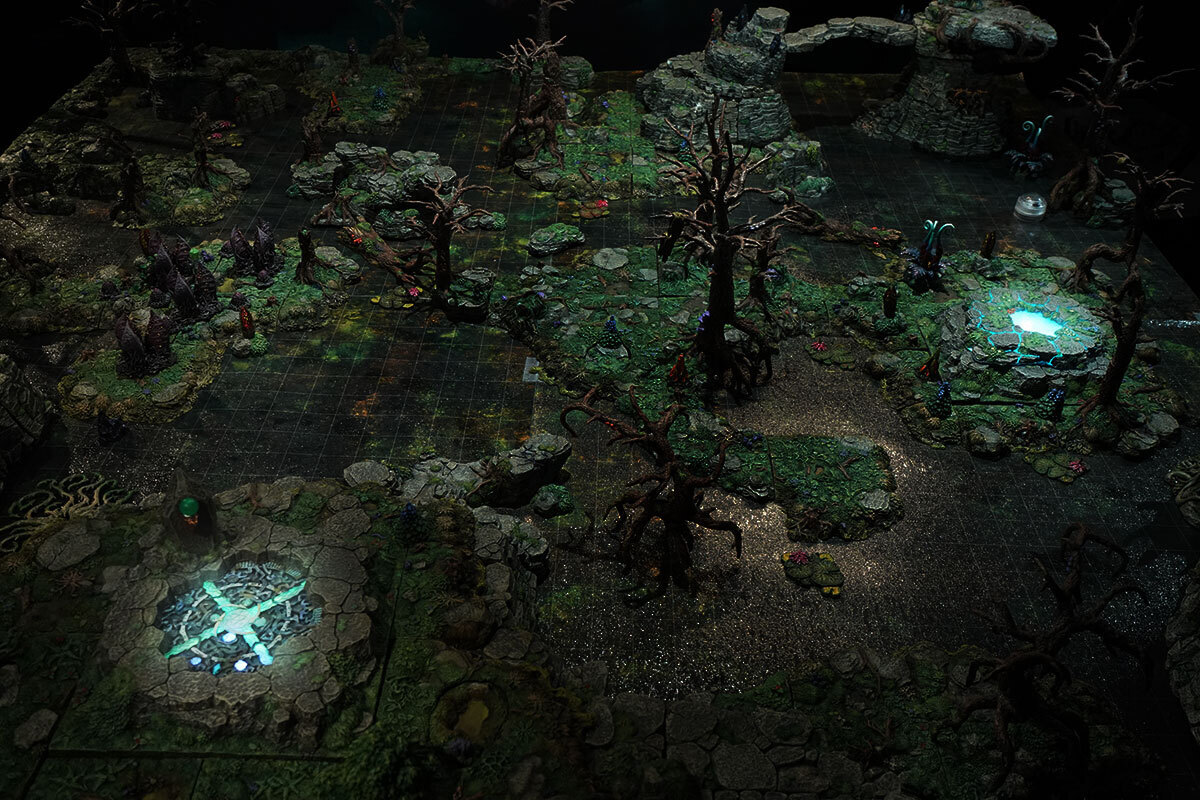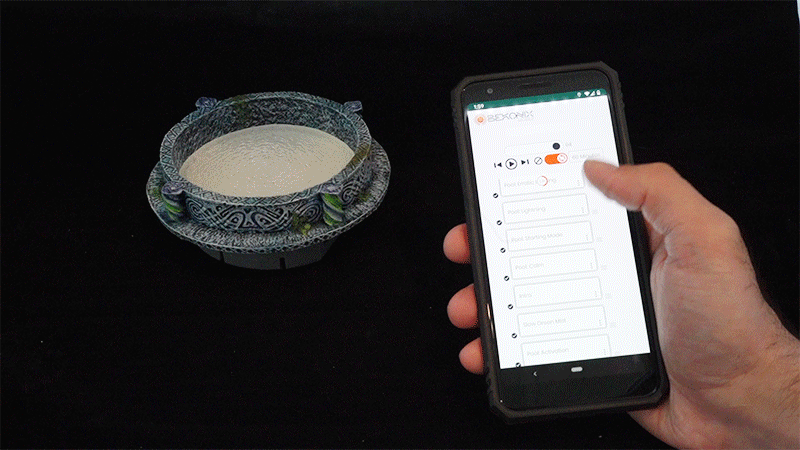 Light Sequence Options
The Dwarven Light Puck comes loaded with dynamic, moving light sequences and will launch with 25 or more fully-developed light sequences, with more to follow! The Light Puck also has special developer tools to create, customize, and share light sequences of your own design.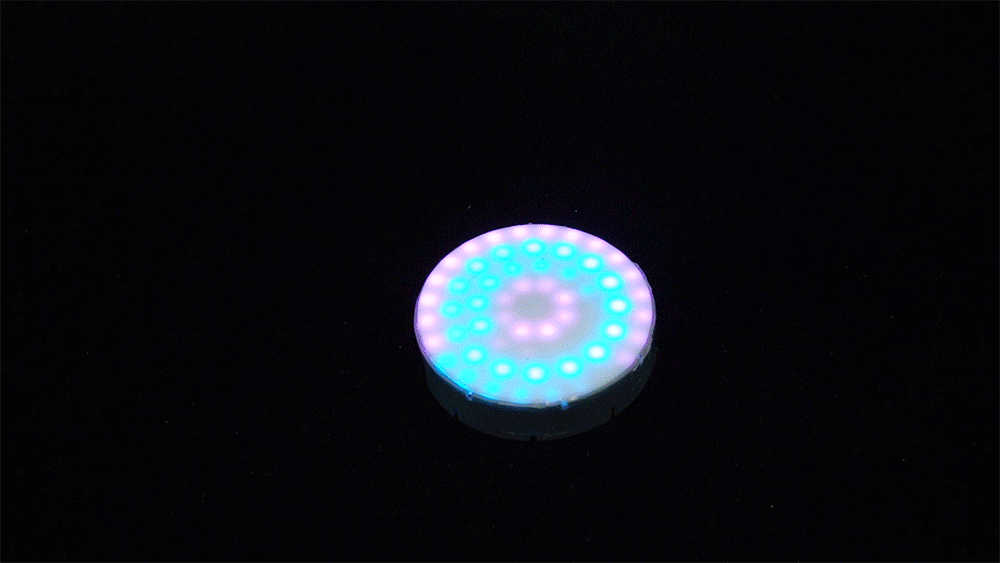 The Dwarven Light Puck
THE HARDWARE
Inside the Dwarven Light Puck is an array of LEDs, a rechargeable battery, and a microprocessor board that animates the LEDs, stores "light sequence" content and provides Bluetooth remote control by phone or computer. Also included with the device is a standard USB micro charging cable.
The puck comes on its own (without terrain), but is made to fit into a number of Dwarven Forge terrain pieces (including numerous Wildlands pieces) so it integrates naturally into your builds.
THE CONTENT
To start, your puck will include approximately 25 pre-programmed light sequences. Each sequence is a mini light show to dynamically illuminate your builds — on command.
Dwarven Forge will continue to create new light sequences; all those we release through 2021 will be complimentary for Wildlands Backers who order a light puck. Plus, for those so inclined, you can also create your own content.
THE CONTROLS
An application for iPhone, iPad, Android, PC and Mac — free for all Wildlands Backers who order a DF Light Puck — controls the puck via Bluetooth. The application allows you to start and stop sequences on demand, run a full sequence once, or set it to loop continuously. You can create light sequence playlists, pre-program start times and adjust brightness.
PROGRAMMING AND LOADING NEW CONTENT
Use the PC/Mac based app to create or edit your own sequences, or to drag and drop new content onto your puck.
THE SYSTEM AND THE SOFTWARE
We're fortunate to have great technical partners at California-based Bekonix for this project. Bekonix developed the puck's firmware and the computer/mobile applications, building and supporting the ecosystem that makes the puck so unique.

FAQs
HOW LARGE IS THE PUCK AND HOW DOES IT FIT INTO MY BUILDS?
The puck is roughly 4 inches in diameter and about 1 inch tall.
Although the puck works as a standalone piece, it's best when set into one of numerous compatible terrain pieces such as the Hole Knoll [FF-707], Oracle Pool [AC-724], the Mountain Floor w/ SFX Cutout [MF-706], and the Oblivion Nexus [MS-701]. Toppers specifically designed for it include the Fae Wellspring [FS-712], Oblivion Nexus [MS-701], and the two Oracle Pool inserts — Swirling Vortex Insert [AC-727] and Codex Vault Inset [AC-726].
DO I NEED A PHONE, TABLET OR COMPUTER TO CONTROL MY PUCK?
Yes. You will need a Bluetooth enabled phone, tablet or computer plus the app to play light sequences stored on your puck.
HOW LONG DOES THE BATTERY LAST BEFORE IT HAS TO BE RECHARGED?
Although most users will not use the puck continuously in their games, when fully charged, the puck will play our light sequences continuously for 5-8 hours. We recommend charging your puck before a long game.
DOES THE PUCK COME WITH A WALL PLUG?
The puck comes with a USB micro charging cable for recharging the battery, but does not include a wall plug. However, this cable will fit any typical USB wall plug (1-2 amps) you find with most phone chargers.
WHICH OPERATING SYSTEM DO I NEED FOR THE APPS?
Mobile Devices:
iOS: 11.0 or later. Compatible with iPhone, iPad, and iPod touch.
Android: 5.0 and up
Computers:
Mac: OS X 10.11 or later
PC: Windows 10 version 15063.0 or higher
DO I HAVE TO PAY TO USE THE APP?
No. All Wildlands Backers receive free access to the apps and any of the light sequences we issue with the puck.
HOW FAR AWAY CAN I BE TO CONTROL THE PUCK?
The app-based controls use Bluetooth, not wifi or cellular. (So you do not need internet access to use the app with your puck.) Depending on obstructions and your operating device, (phone, tablet, PC, Mac) you will need to be within approximately 30 feet of the Light Puck to operate it.
CAN I OPERATE MORE THAN 1 PUCK FROM MY APP?
Yes. You can name your pucks individually and operate them separately. We suggest if you order more than 1 puck, you label them accordingly.
IS THERE A WARRANTY?
As long as they are used normally and not physically damaged, Dwarven Forge will replace any non-working puck within 1 year of receipt. The LEDs within the puck have a normal life span of about 25,000-50,000 hours.
HOW HARD IS THE PUCK TO USE?
Connecting the puck to your Bluetooth and playing the light sequences is fast and simple. It's not that different than connecting a Bluetooth speaker and playing music through it. The main difference with the puck is that, for speed, the light sequences play from the puck itself rather than streaming from your device.
HOW DO I PUT NEW CONTENT ON THE PUCK?
Our library of sequences is stored on the cloud so they can be loaded onto the puck at your convenience (as long as you have an internet connection). Connect the puck to your computer using the USB micro cable, then from there, it's a simple drag and drop process within the app.
Depending on the complexity of the sequences, your puck can hold about 25-50 sequences at one time.
CAN I CREATE MY OWN LIGHT SEQUENCES?
Yes, using your computer, you can program and edit your own content. This process requires a little time to learn but when the pucks ship out, we'll be posting how-to videos and hosting online training livestreams to get you in the know.
CAN LIGHT SEQUENCES BE SHARED BY LIGHT PUCK USERS?
Yes, you will be able to share your sequences with other puck users.