Getting ready for Pledge Manager can be tough, so we created this page to collect all the changes our selections went through from the end of the campaign to now. Welcome to the Wildlands…again.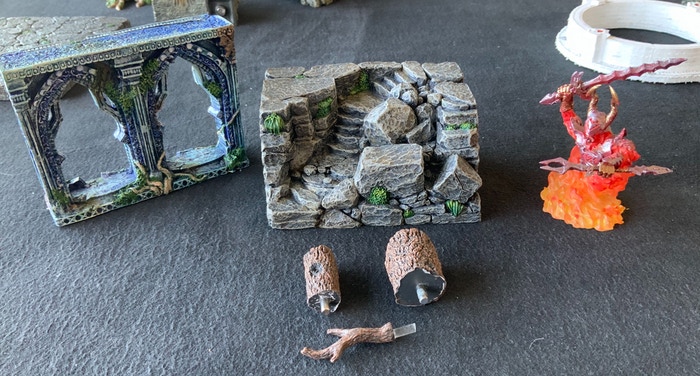 New and Revised Pledge Sets
By popular demand, we're excited to introduce two new pledge sets into the Pledge Manager – Heart of the Wild and Roll into Battle Deluxe! Plus, a revision to the Mountain Mega Build "Wyverstone Peak", to include the new Winding Stairs – Right piece. Back to Top Menu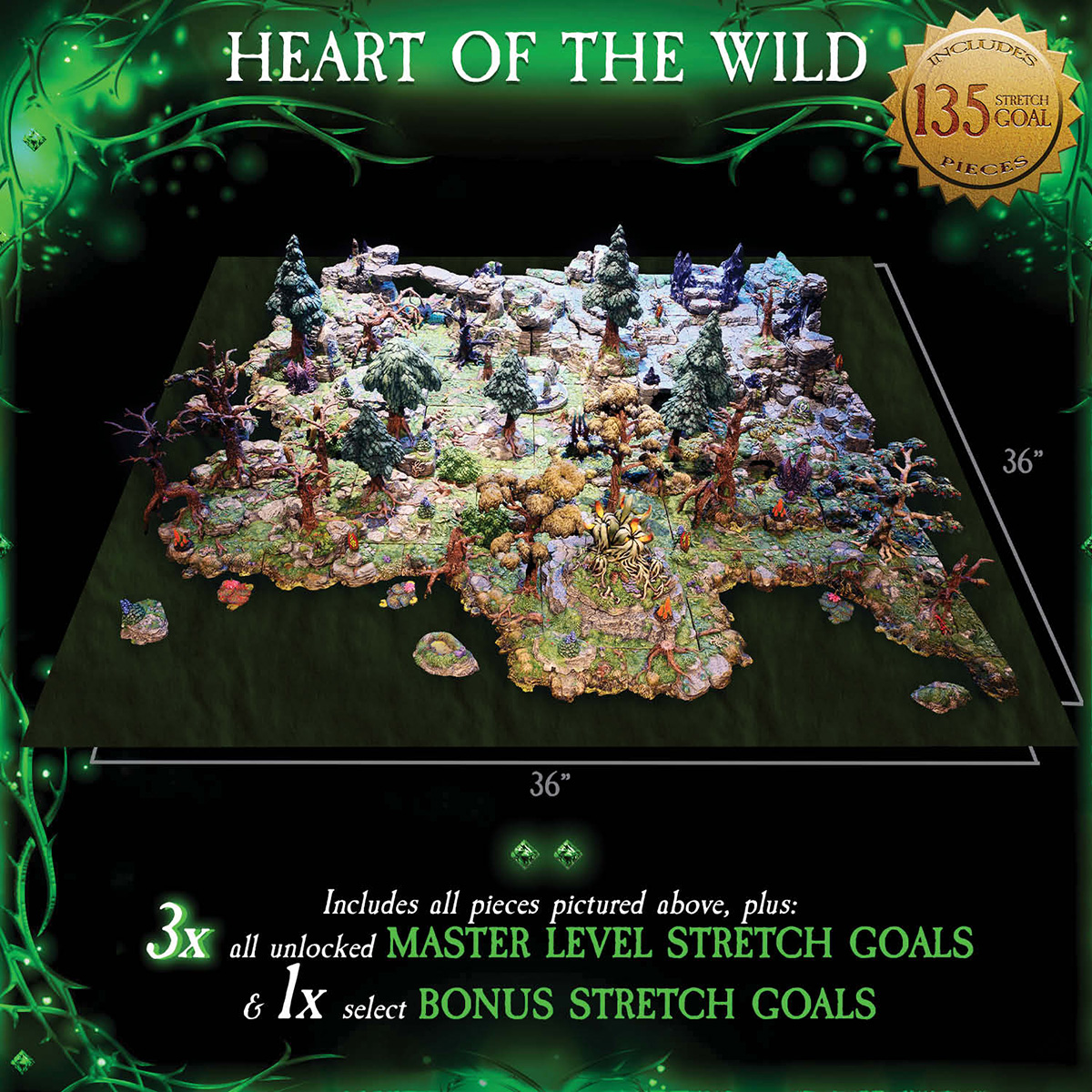 NEW Heart of The Wild
A new pledge that collects all three of the "Heart of" add-ons (Heart of the Forest, Mountain, and Swamp) into one jumbo assortment of sculpted terrain! Comes with all associated bonuses, and x3 of EACH Master Level Stretch Goals.
NEW Roll Into Battle Deluxe – Build Your Own
The Wildlands Horizon Dice Bundle has now been upgraded to a full on pledge! Easy to get all three Horizon Dice from our collaboration with Die Hard Dice, and still get your add-ons! (Wildlands Totebag not included)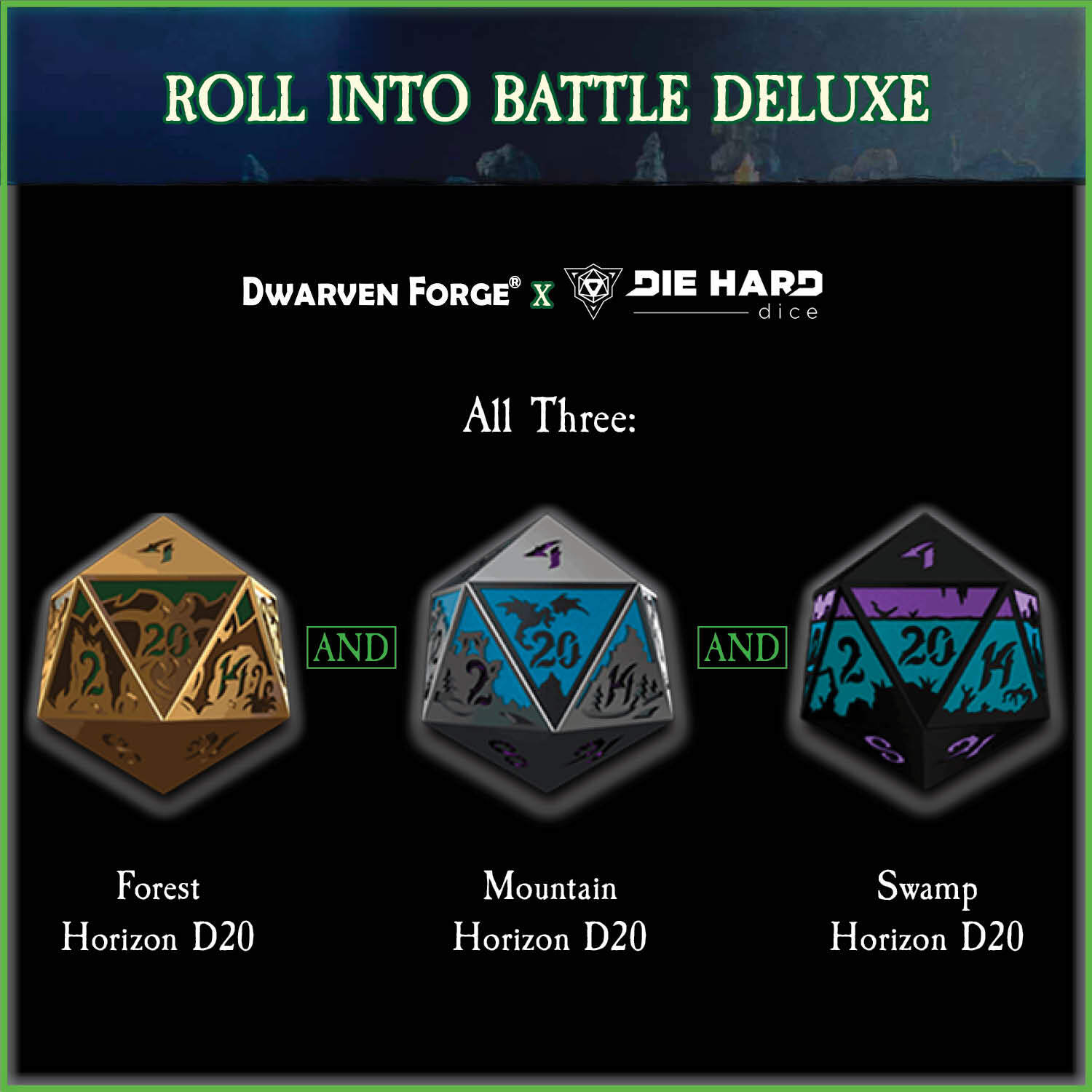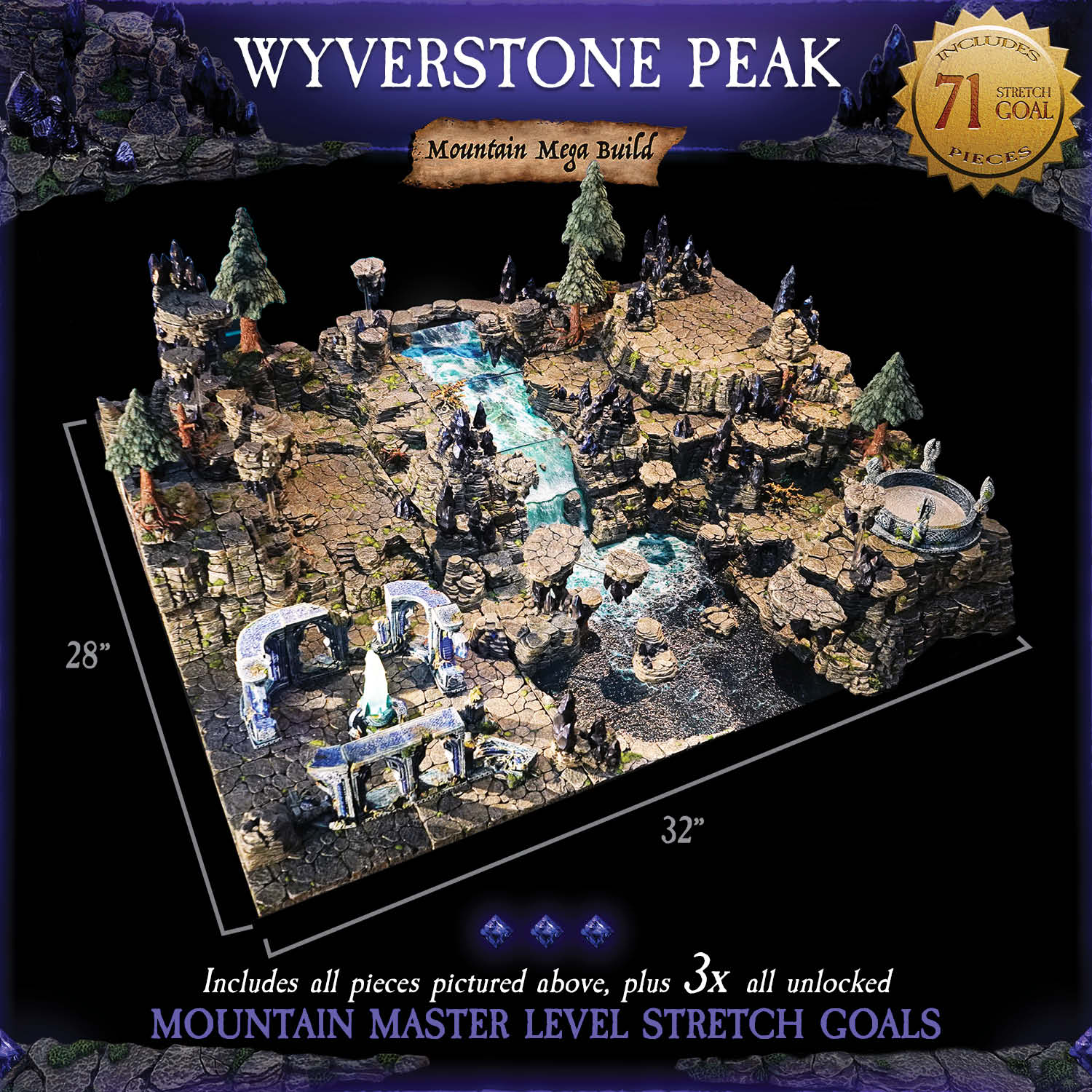 REVISED Mountain Mega Build – "Wyverstone Peak"
ADDED:

TE-717 – Winding Stair Escarpment – Right; x1 qty
REDUCED:

TE-710 – Winding Stair Escarpment – Left; x1 qty
In this pack, we found since there were x2 of the original Winding Stair, we had the perfect opportunity to give people the NEW piece made by Stefan, while not altering the piece count or the price of the set.
REVISED Wildlands Untamed
Wildlands Untamed now reflects the same revisions as Wyverstone Peak (because it is included!):
ADDED:

TE-717 – Winding Stair Escarpment – Right; x1 qty
REDUCED:

TE-710 – Winding Stair Escarpment – Left; x1 qty
In this pack, we found since there were x2 of the original Winding Stair, we had the perfect opportunity to give people the NEW piece made by Stefan, while not altering the piece count or the price of the set.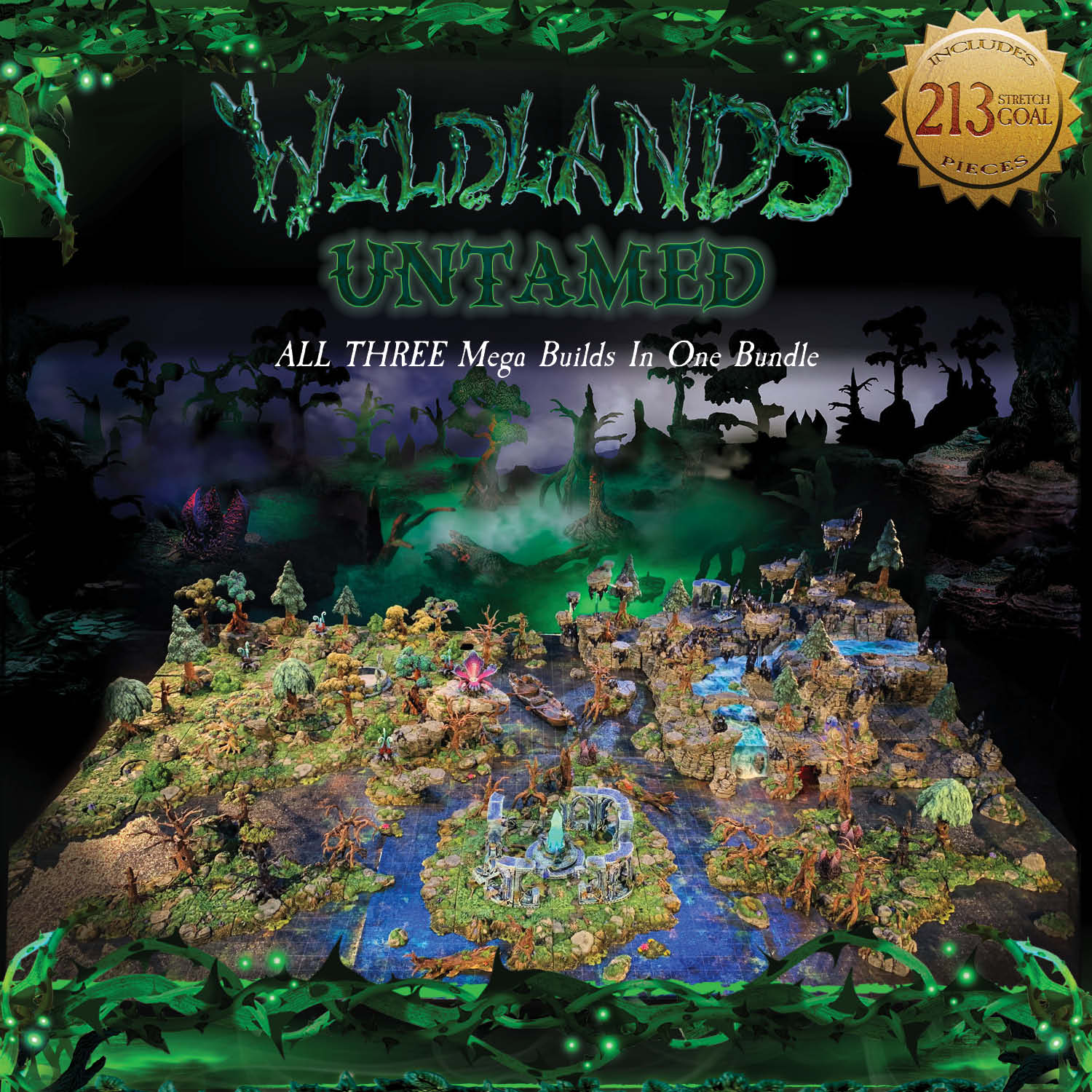 New Add-on Sets
We're adding 20 new add-on sets plus Gridless Surface Layer Scenery add-on set options to the Pledge Manager. We created some of these sets to feature all-new pieces, and others because backers requested them. Thank you very much for helping us offer the best possible set compositions! Back to Top Menu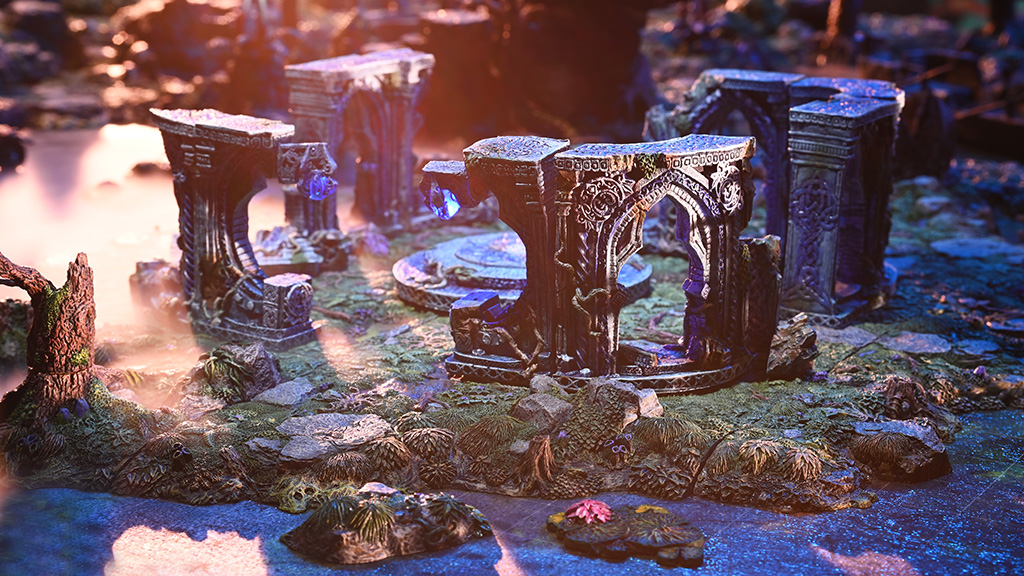 NEW Ruins Sets
Ruins – LED Buttresses: This pack includes a pair of LED Buttresses and Archaean Glowglobes. Reconfigured from the Ruins – Archaean Accessories pack.
Ruins – Ruined Bits: A way to make that dusty old structure even older and dustier. Reconfigured from the "Ruins – Archaean Arches" pack.
Ruins – All Arches: No better way to get all the Arches from Wildlands than this pack, AND it comes with the NEW Double Archaean Arch! Reconfigured from the "Ruins – Archaean Arches" pack.
Ruins – The Circle of Power: The "Circle of Power" gathers the Archaean Dais and its plug, and adds pieces from the "Ruins – Archaean Accessories" pack and the Planar Pylon!
NEW Adventure Packs
Forgotten Forest: Some of you let us know these pieces were hard to get a hold of, so we placed them here in one easy to snag spot.
Spooky Swamp: Boosting up that fiddly bits count you get from the swamp is now even easier!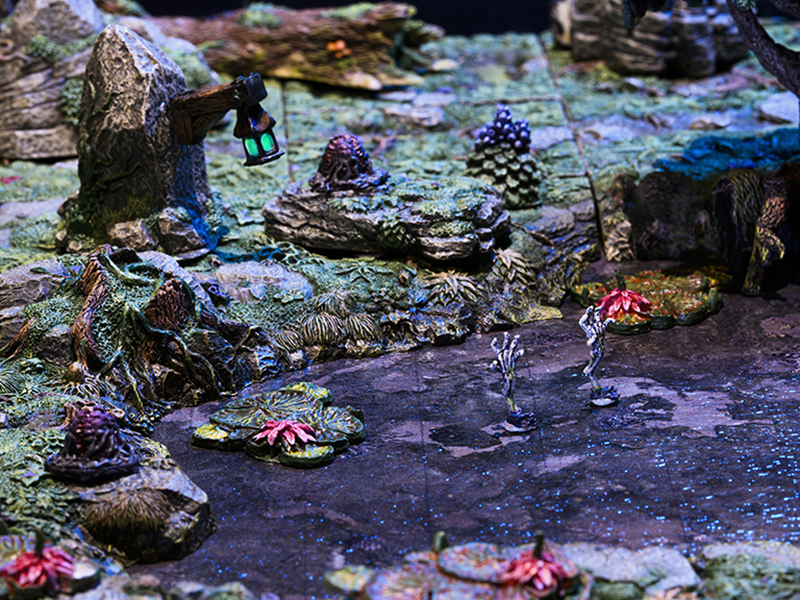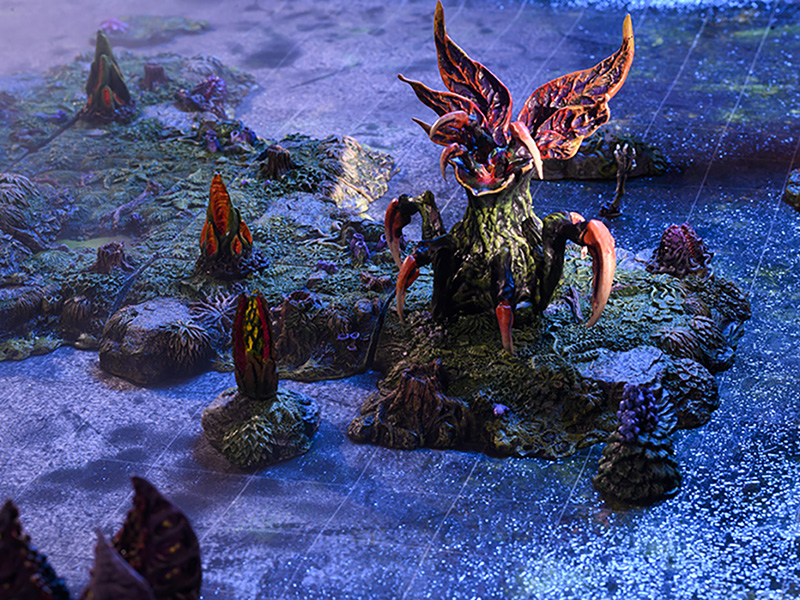 NEW Dangerous Plants Sets
Crablily Patch: A set giving you the terrifying Crablily, as well as some choice scatter to round out your environment!
Tangled Turf: A great pack to easily grab the Nettlegorse and the Razorvine Tangle.
Tree Extensions: Our NEW tree extenders help anyone who wants a little height advantage, as well as a NEW square rod piece, the Dead Branch Plug, and some Projected Roots.
NEW Special Edition Resin Sets
Threshold of Worlds – Special Edition Resin Set: In this incredible set sculpted by the fabulously talented Elye Alexander, you'll find five different pieces. First, two halves of an outcrop—Life and Death— combine to form a single large crag with a hole leading down through its center to a hidden chamber within. The two halves can also be separated to create a natural archway, an irregular alcove, a jagged ridge, or two unconnected crags. Three smaller pieces complement the outcrop: a ruined monument; an elven statue; and a freestanding energy vortex. A truly powerful and unique set of pieces.
Moonlit Arch – Special Edition Resin Set: This set, sculpted by Lady Sabelle, the Mistress of Miniscule, features a towering archway atop an intricate raised dais carved with crescent moons and elaborate knotwork. Winged cats adorn the arch itself and a pair of free-standing Griffon Pillars guard the front steps. The Moon Dais is designed to fit both the Circular Archaean Dais and the Oracle Pool, as well as working with the other ruins pieces.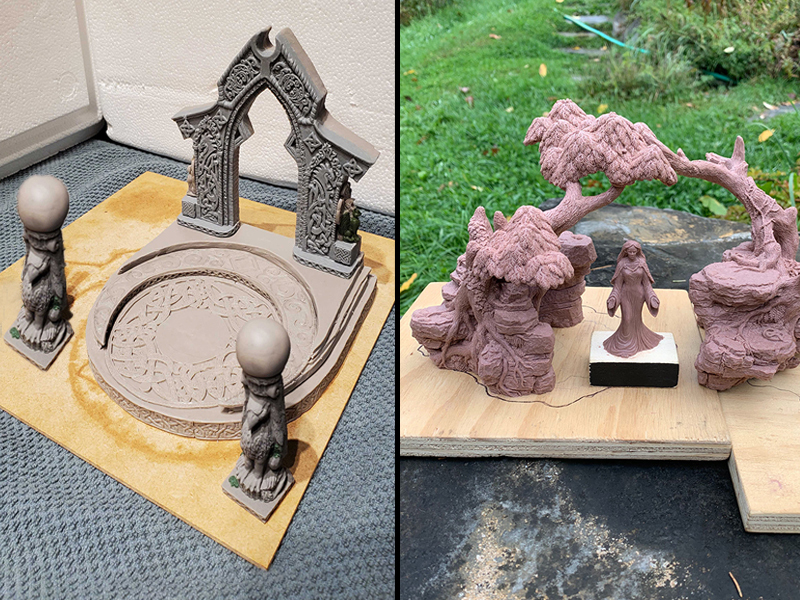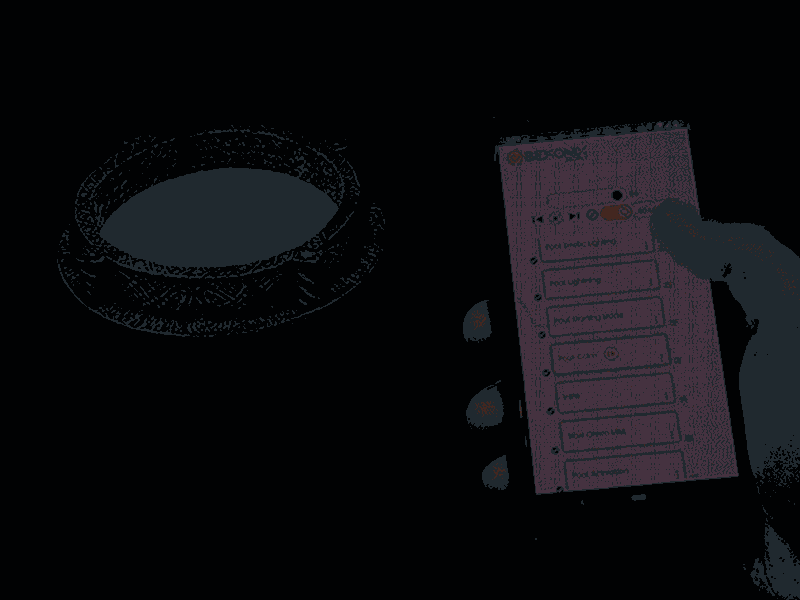 NEW SFX Fogger and Light Puck Sets
Mountain SFX Floor: This piece pairs with both the DF Floor Fogger AND the DF Light Puck, and listed by itself in this pack for your convenience.
Sporeclaw Deluxe Fogger Pack: Get the Floor Fogger, the Hole Knoll Floor, AND the Spreading Sporeclaw in this pack!
Oracle Pool Deluxe Light Puck Pack: The Dwarven Light Puck plus the Oracle Pool make a dazzling combination.
Wellspring Deluxe Light Puck Pack: This charming well springs to life when conveniently paired with the Hole Knoll Floor and the Light Puck!
Oblivion Nexus Deluxe Light & Fog Pack: This pack combines the Oblivion Nexus, the DF Floor Fogger, AND the Light Puck. The ultimate in special effects wizardry!
NEW Elevation Packs
Stilts Megapack: Full collection of the three stilts presented in Wildlands; 12mm, 38mm, and the NEW 50mm stilt. (Note: the 50mm stilt is dark, unpainted, untextured square cylinder.)
Escarpments – Basic Builder: A nice helping of some of the most helpful Escarpments!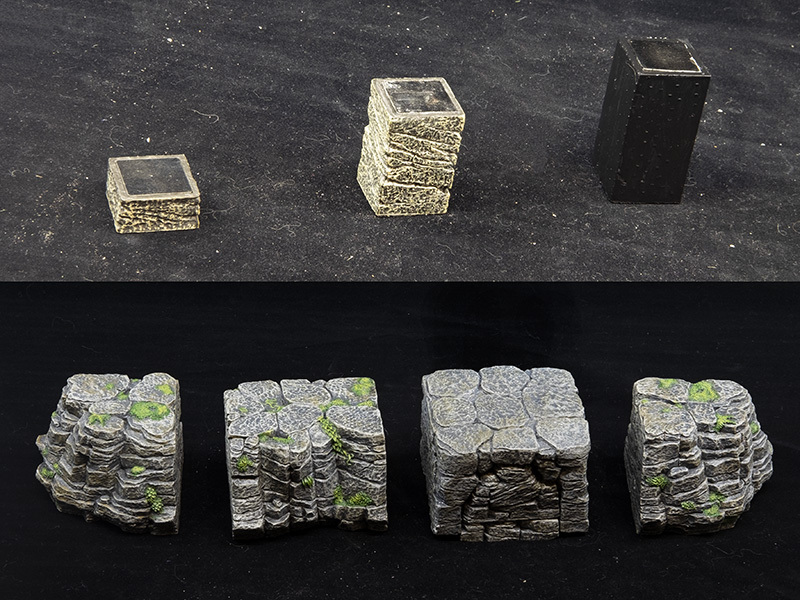 NEW Miniature
Between the dynamic sculpting and the internal flickering yellow LED, this fiery avenger will certainly wow your players. This large elemental stands 52mm to the eye and 80mm tall overall.

Revised Add-on Sets
While we hesitate to make any set changes after the Kickstarter campaign, we thought these few set revisions were important to giving you the best compositions we can offer. Back to Top Menu
REVISED Ruins of Calientyr Megapack
ADDED:

RU-701 – Double Archaean Arch; x4 qty
REMOVED:

RU-702 – Archaean Arch; x4 qty
This Megapack needed to include the new Double Archaean Arch, so we added 4x and removed x4 of the single arches. The end result is more straight arch coverage without too large a price increase.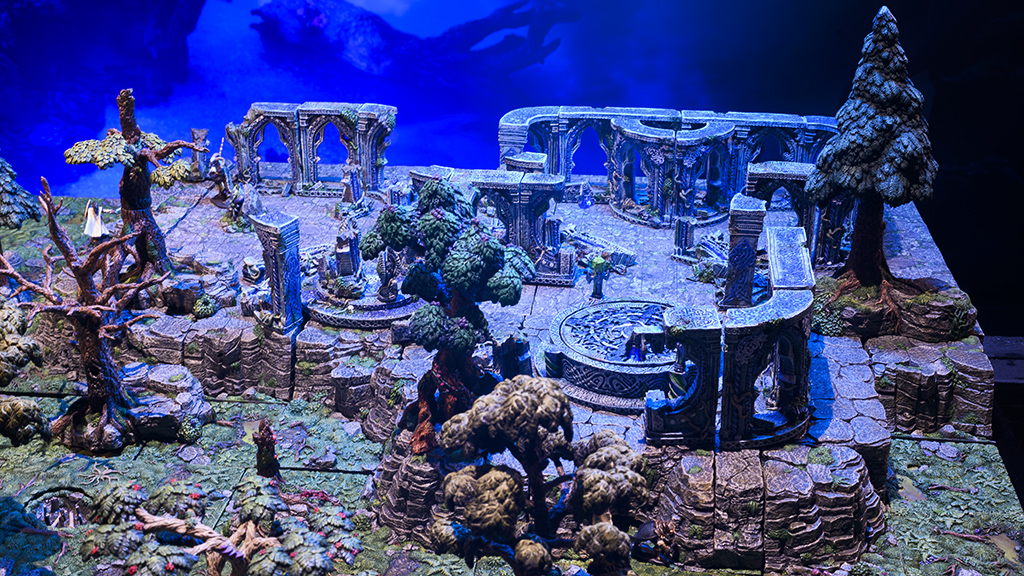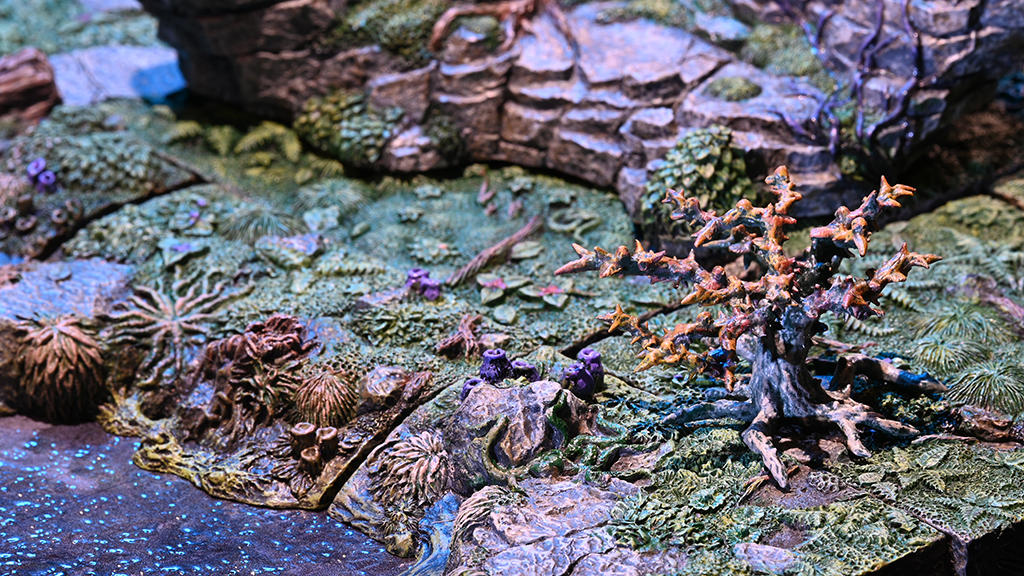 REVISED Felbourne Trees
ADDED:

T-706 – Nettlegorse; x1 qty
REMOVED:

SP-706 – Creepy Branch Stump Topper; x1 qty
Since this set had a Stump Topper with no stump, we decided to remove it. We replaced this part with a Nettlegorse based on backers' requests.
REVISED Escarpments – Winding Stairs Pack
ADDED:

TE-717 – Winding Stair Escarpment – Right; x1 qty
REMOVED:

TE-707 – 1×3 Escarpment; x2 qty
We added the Winding Stair piece to this pack so it would contain both stairs. We removed the 1×3 Escarpments to keep the price down and because they are not necessary with every stairs/escarpment build. If you want 1×3 Escarpments we recommend the Escarpments – Advanced Builder add-on set.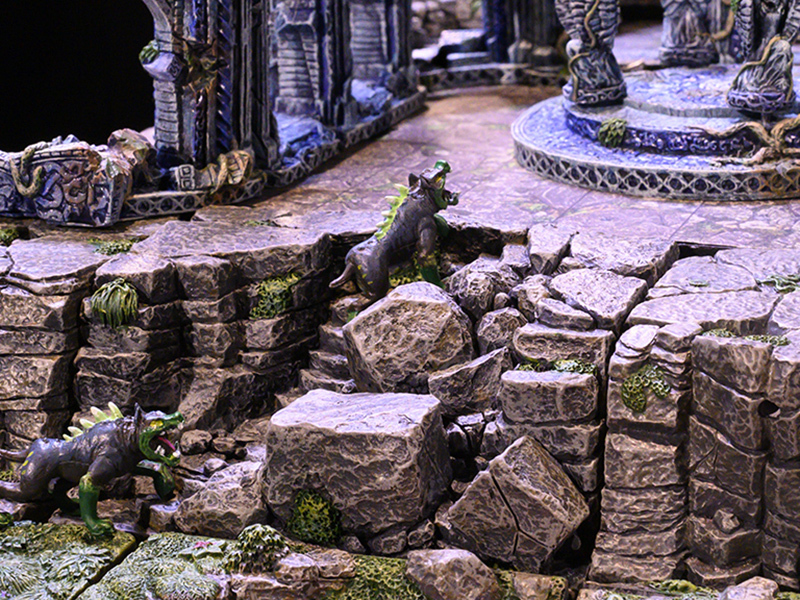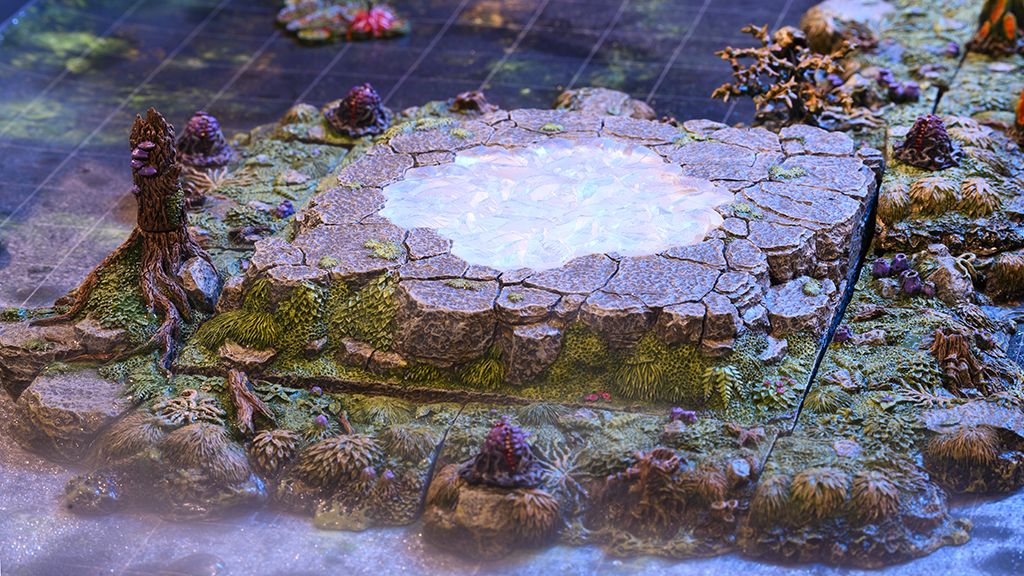 REVISED The Hole Knoll Pack
REMOVED:

FS-712 – Fae Wellspring; x1 qty
The Hole Knoll was a piece that was rather hard to get, and impossible to get on its own. In order to make it easier to access (especially in high multiples), we removed the Fae Wellspring from this pack. The Fae Wellspring is available in both the Enchanted Pool pack and the new Wellspring Deluxe Light Puck Pack, as well as the Heart of the Forest, Heart of the Wilds, Titanstooth Glade, and Wildlands Untamed.
REVISED Escarpments – Megapack
ADDED:

TE-717 – Winding Stair Escarpment – Right; x1 qty
ADDED:

WT-718 – Dead Branch Plug; x2 qty
We wanted to make sure this Megapack actually included all the Escarpments pieces. So we added the new Winding Stairs piece and two of the new Dead Branch Plugs. The Dead Branch Plug wasn't a necessity, but it works so nicely with the numerous Square Peg Holes in the Escarpments, that it really turned this pack up to 11.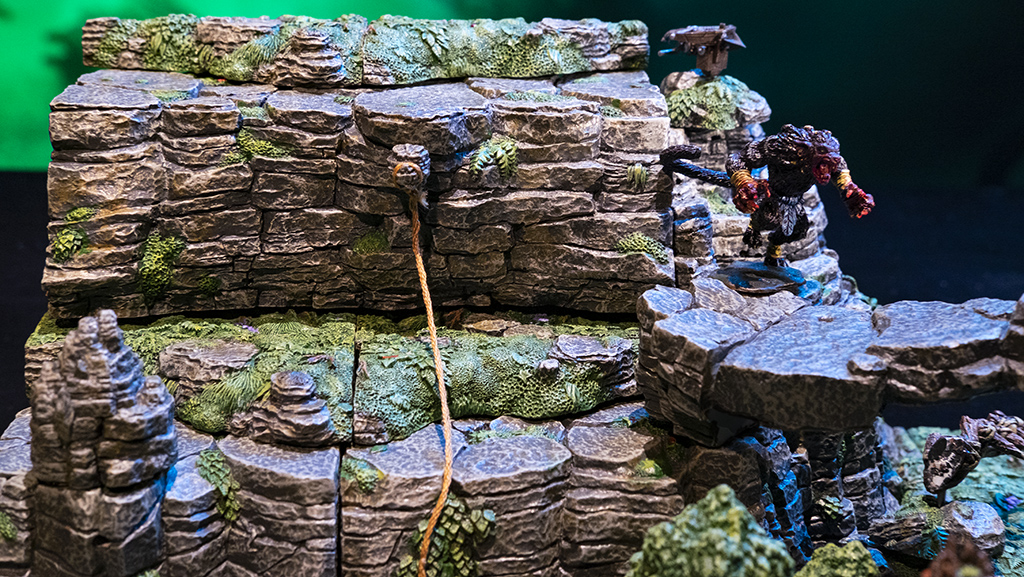 REVISED Mountain Climber
ADDED:

WT-718 – Dead Branch Plug; x2 qty
We had to make sure that the best assortment of climbing tools were available.
REVISED The Standing Stones
ADDED:

AC-723 – Balefire Lantern (LED); x2 qty
We realized that the lantern was only available in the Barge pack, and since we don't want it to be lost in the swamp, we put it here too.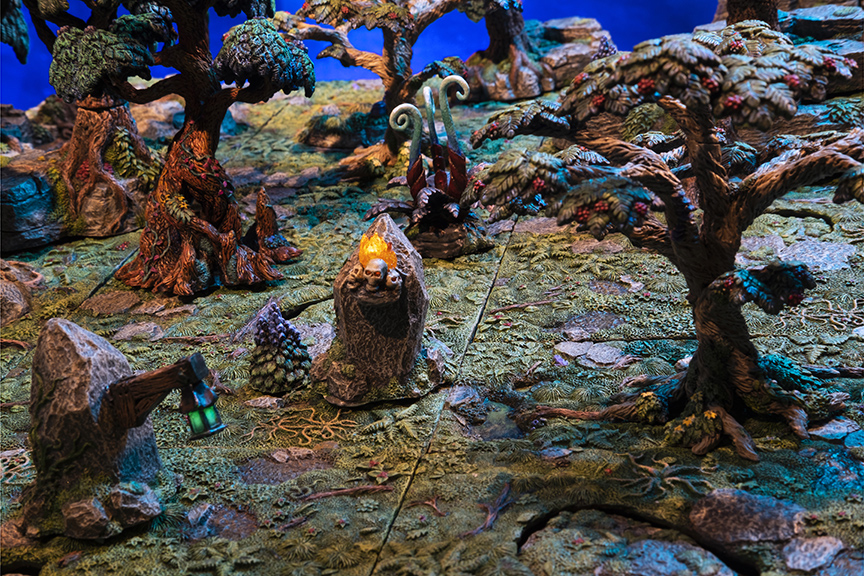 New Pieces
Thanks to that crazy finish, we:
Released the Fire Elemental Myrmidon from Hellscape.
Included new pieces based on backer requests.
Topped the list off with 2 great, special-edition resin sets.
Everything has been updated in the latest Wildlands Field Guide.
Back to Top Menu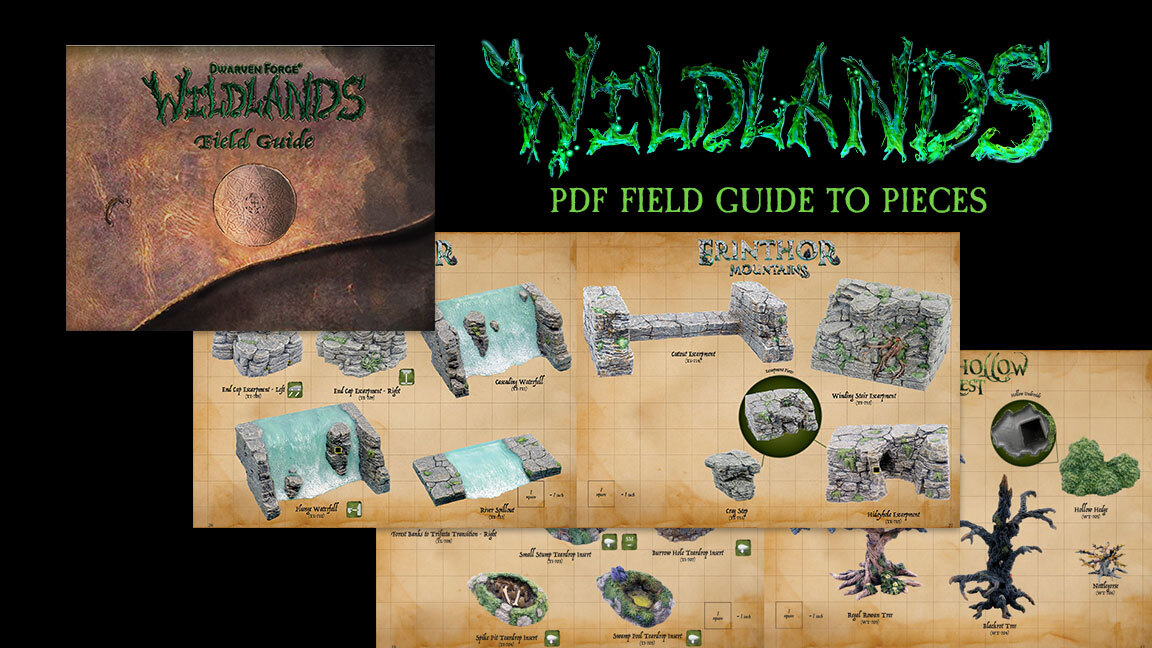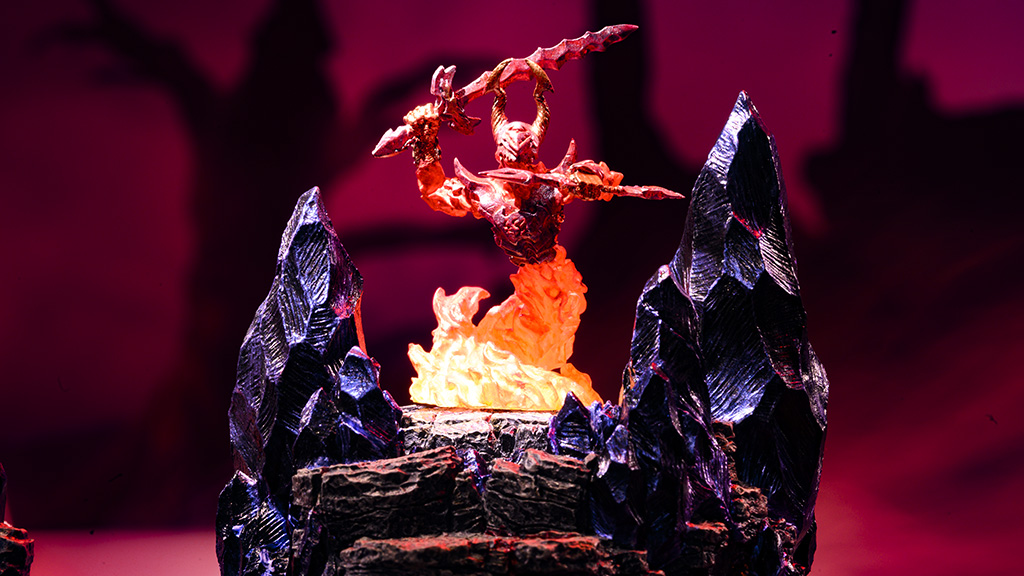 NEW Fire Elemental Myrmidon
Embedded LED miniature
NEW Double Archaean Arch
A double-long straight arch piece in the style of the rest of the Ruins of Cailentyr. Perfect for large ruins builds, especially those favoring intact pieces over crumbled ones.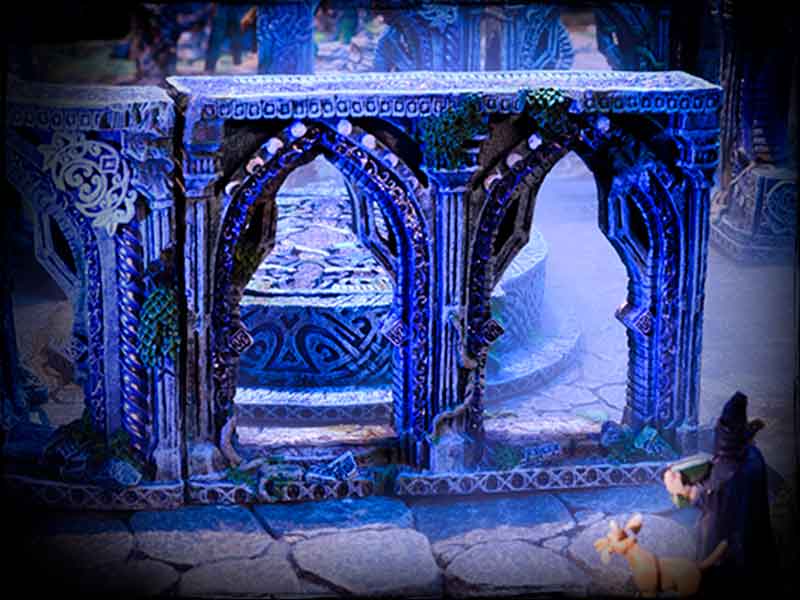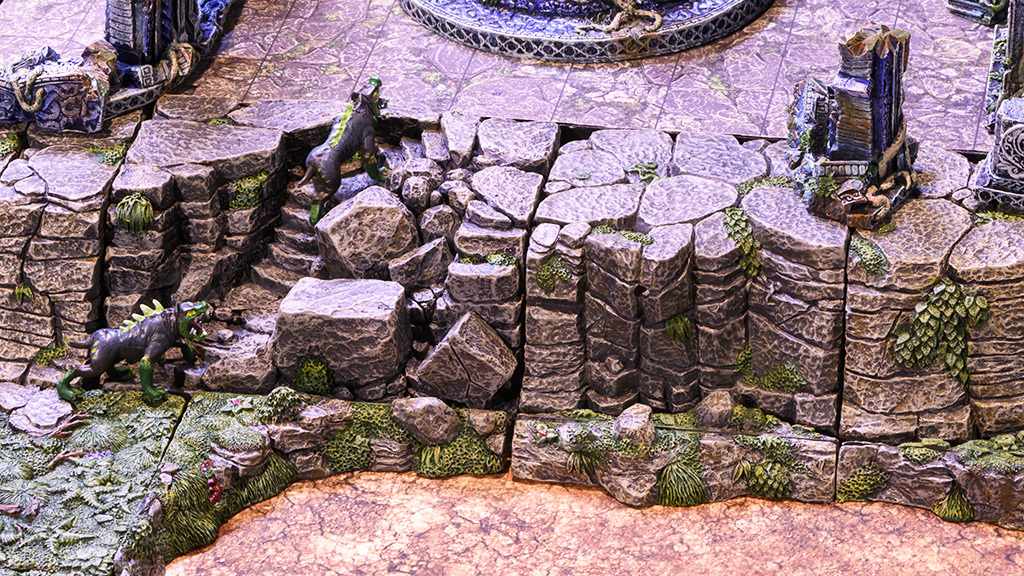 NEW Winding Stair Escarpment – Right
A companion to the Winding Stair Escarpment – Left, sculpted by the one and only Stefan Pokorny!
NEW Tree Extenders and Branch Plug
New pieces – Small Trunk Extender for small peg-base trunks, Large Trunk Extender for large peg-base trunks, and a Dead Branch Plug – a natural branch square peg insert with an embedded square peg.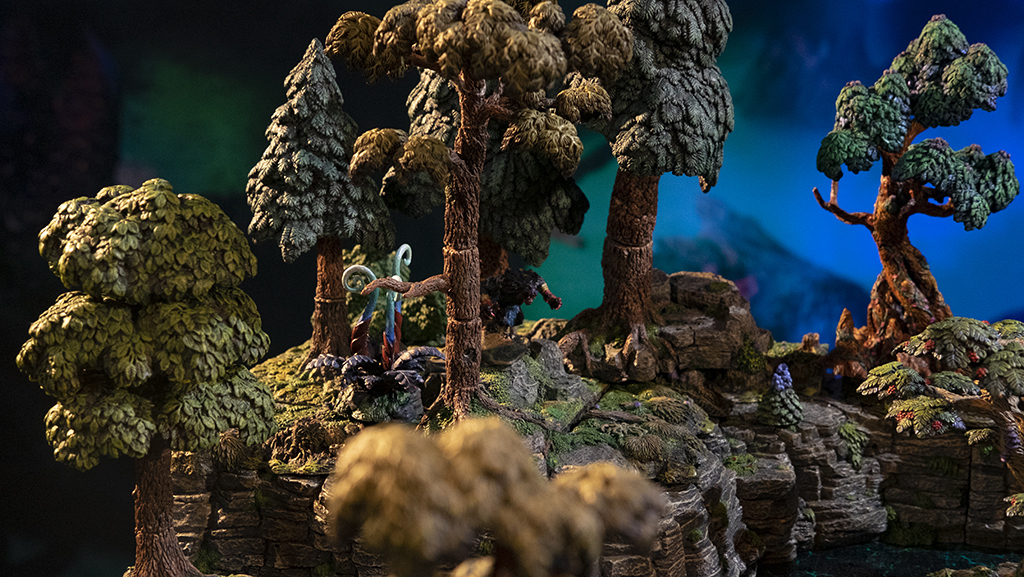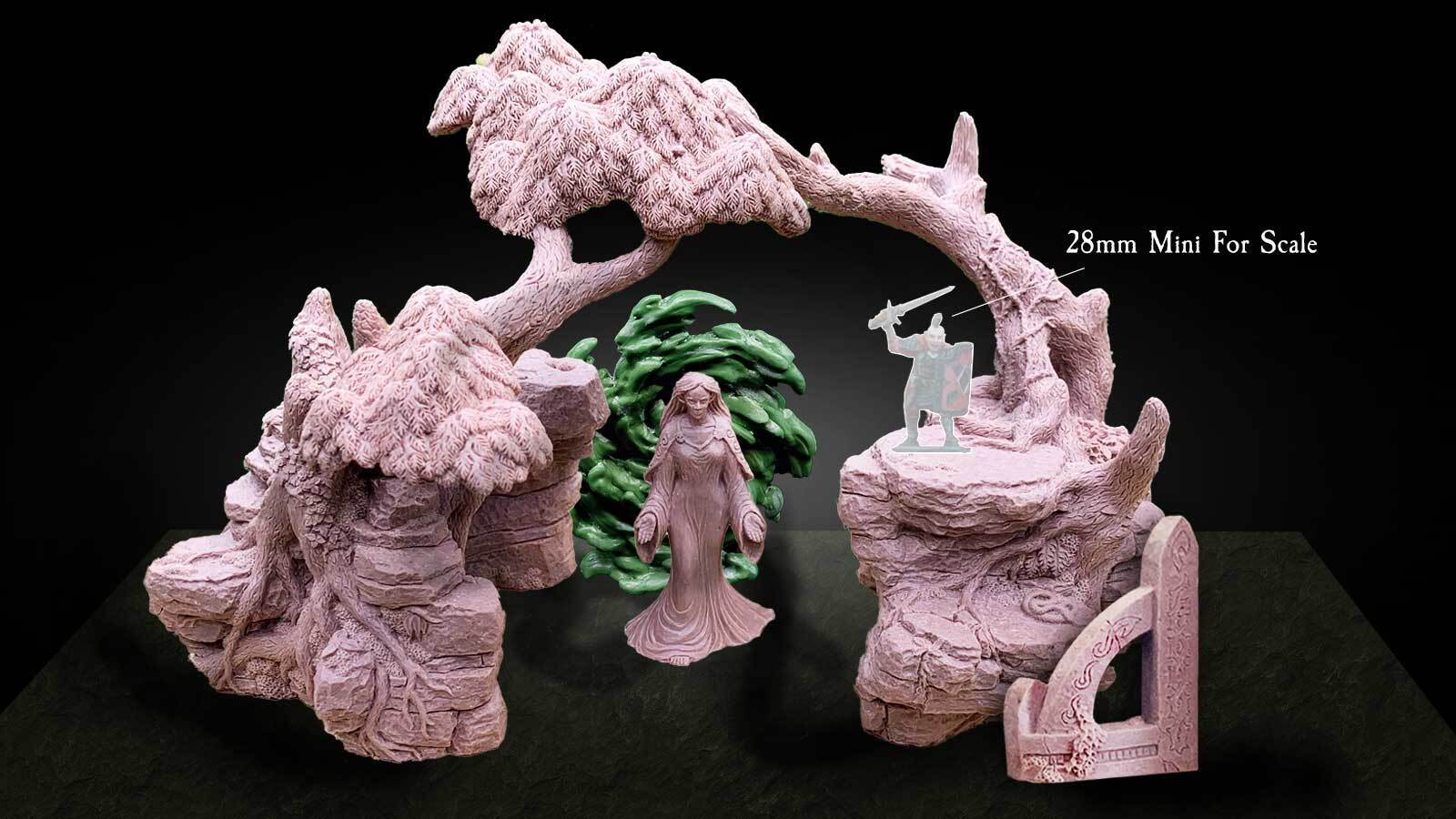 NEW Threshold of Worlds
A site of hidden magics of life, death, and transformation, its nature is revealed in the things that grow upon it: on one side, thorns, fungi, and toxic plants cling to the roots of a dead snag, while on the other a spiraling Cwyldren tree rises from a riot of ferns, wild grapes, primrose and climbing roses. Hidden in the stone itself are two opposing faces, a gaping skull and a contemplative dryad. Ancient ruins stand nearby, hinting at the past presence of the lost Cailentyri culture. When the time is right, a whorl of pure energy may suddenly spring into being, marking the point of crossing from this world into otherwhere.
NEW Moonlit Arch
Deep within the untamed Wildlands, untouched for several millennia, stands the Moonlit Arch. Is it the door to an ancient, lost temple or the gateway to another world? What lost rituals stain its stone with past glory? Cautious should be those who come upon this structure, and woe to those who disturb its guardians. (Picture shown unpainted – Sculpt in progress.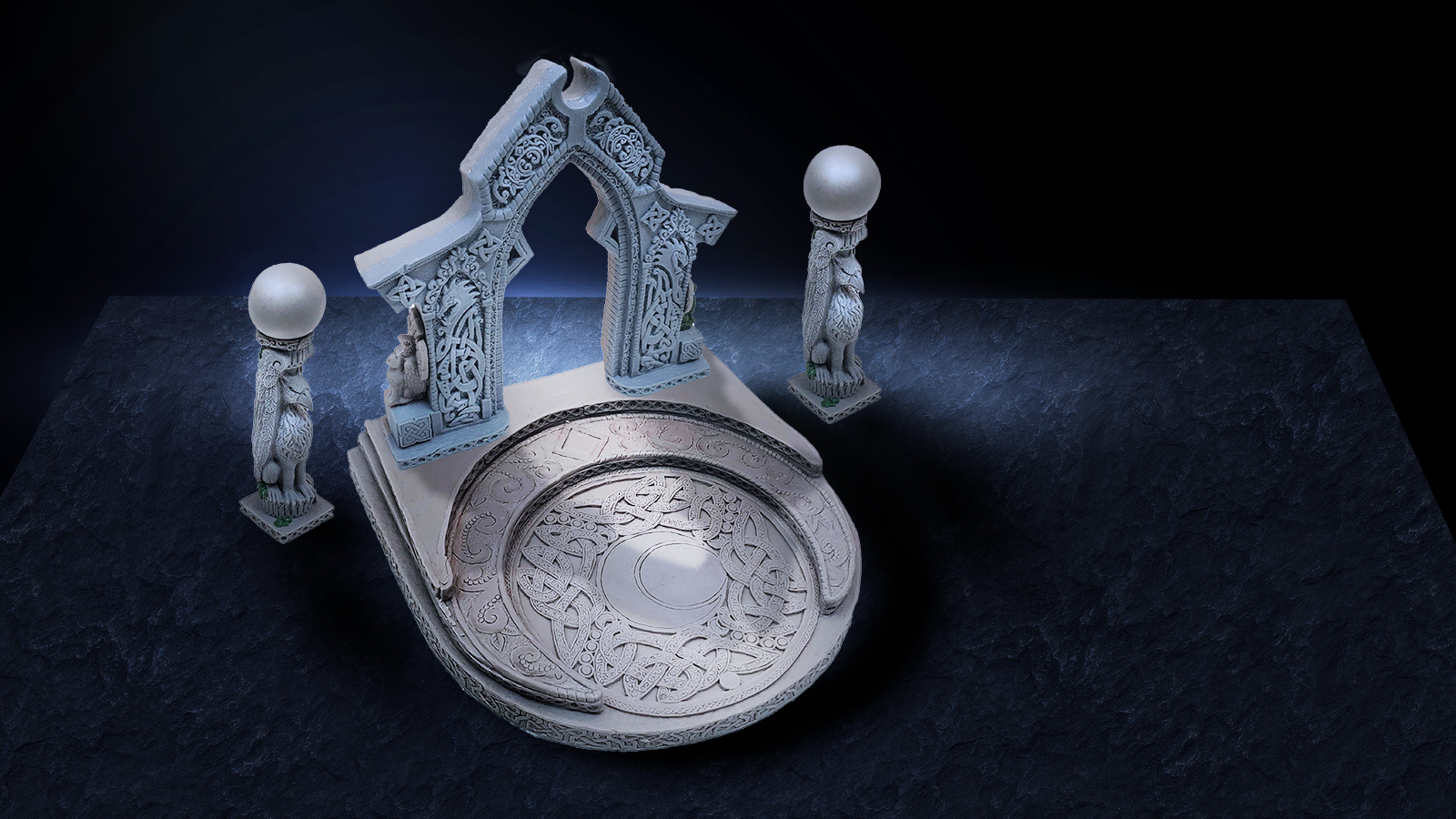 Gridless and New Surface Layer Scenery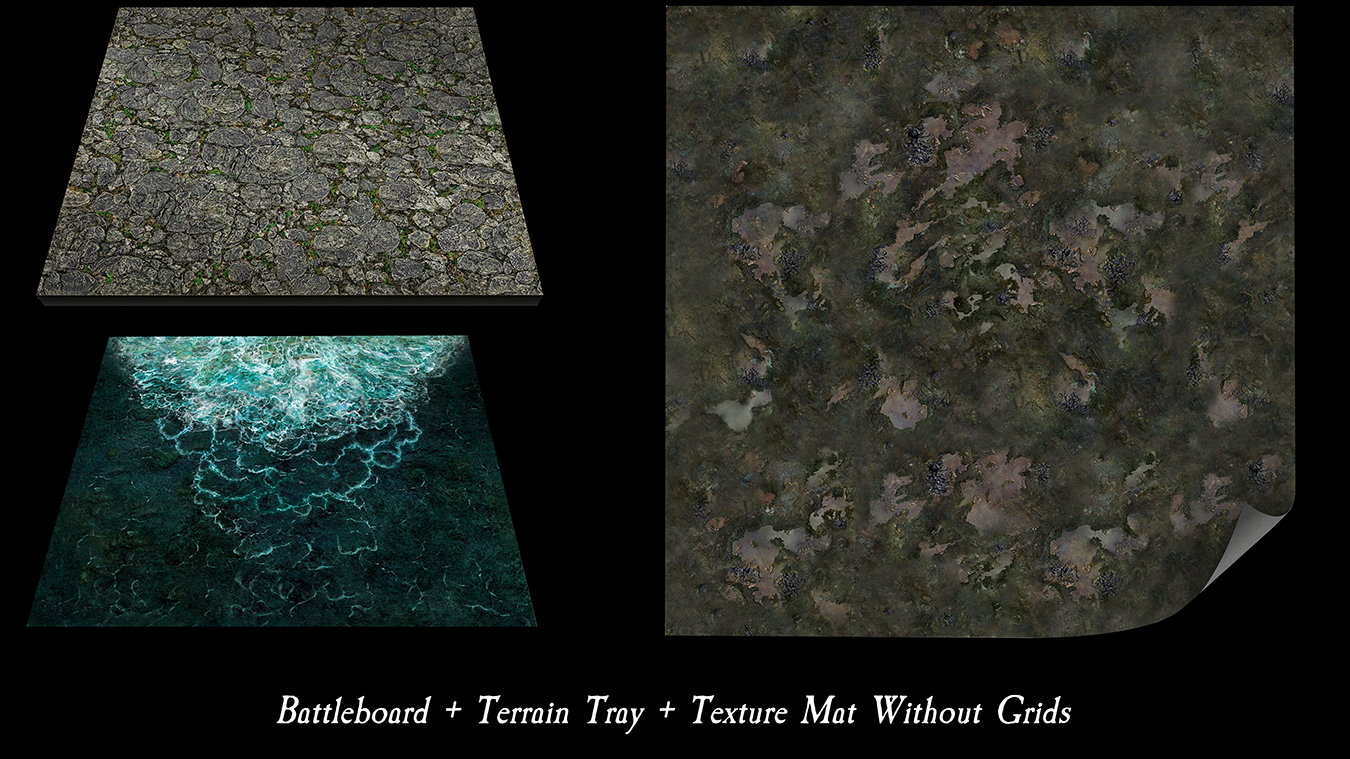 NEW Gridless Surface Layer Scenery
Based on backer requests, we are offering a selection of SLS add-on packs without grids printed on the graphic. These include the following:

7-A192 – Forest Battleboards – 2 pack (GRIDLESS)
7-A195 – Mountain Battleboards – 2 pack (GRIDLESS)
7-A239 – Raging River Terrain Tray – Multi-pack (GRIDLESS)
7-A240 – Swamp Water Terrain Tray – Multi-pack (GRIDLESS)
7-A244 – Dreadhollow Forest Terrain Tray – Multi-pack (GRIDLESS)
7-A245 – Erinthor Mountain Terrain Tray – Multi-pack (GRIDLESS)
7-A241 – Texture Mat – Swamp Water 24″ x 24″ (GRIDLESS)
7-A242 – Texture Mat – Mountain Lake 24″ x 24″ (GRIDLESS)
7-A243 – Texture Mat – Dismal Quagmire 24″ x 24″ (GRIDLESS)
NEW Eldritch Energies – Phantasmal Filters Pack
We have a collection of three brand new Phantasmal Filters – glowing green "Eerie Emanations", scintillating "Faerie Water", and the tumultuous "Swirling Styx". Each Filter is available in two sizes – an 8″x8″ square (ideal for the DF Light Panels) and 94mm diameter circle (ideal for the Dwarven Light Puck).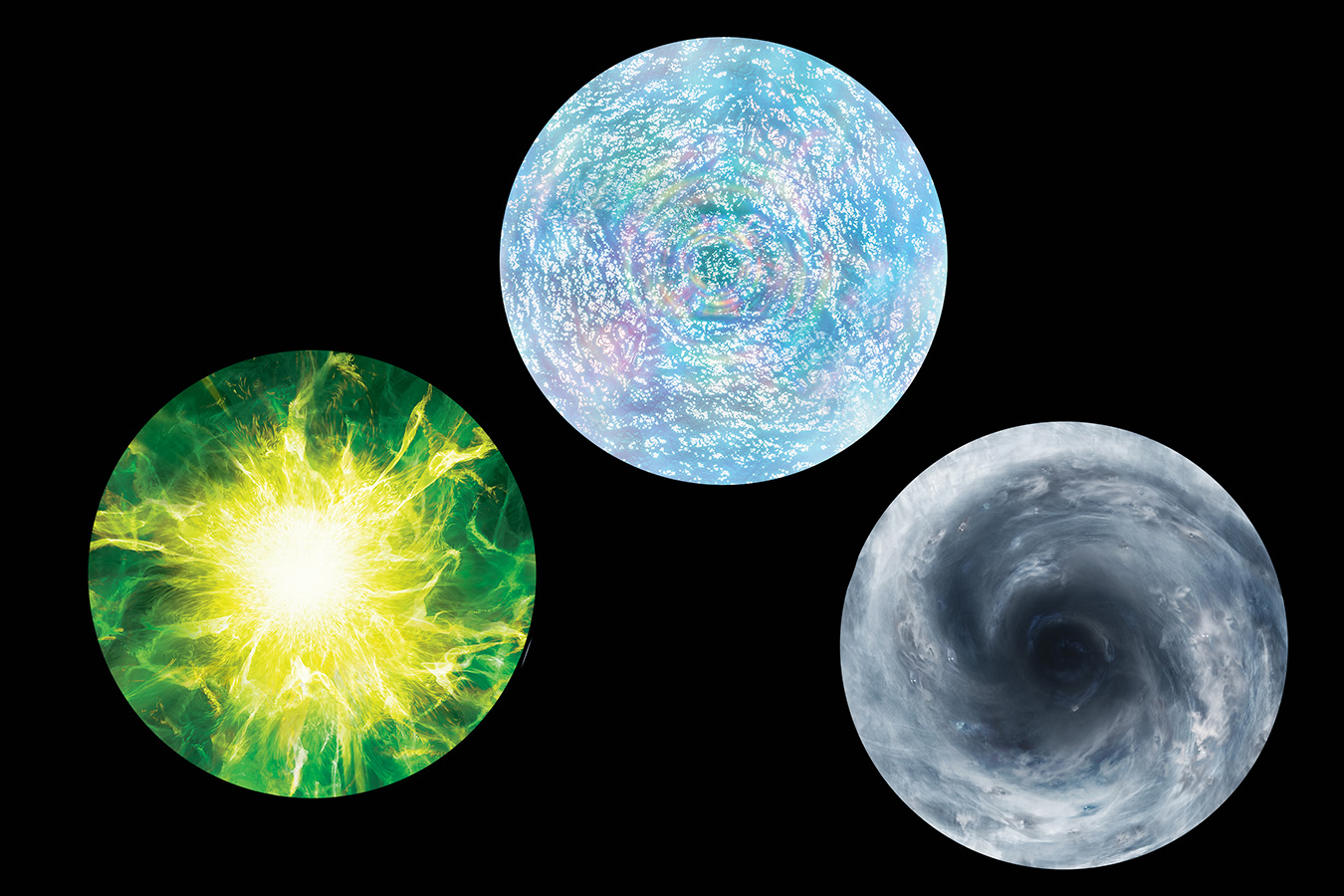 Production Updates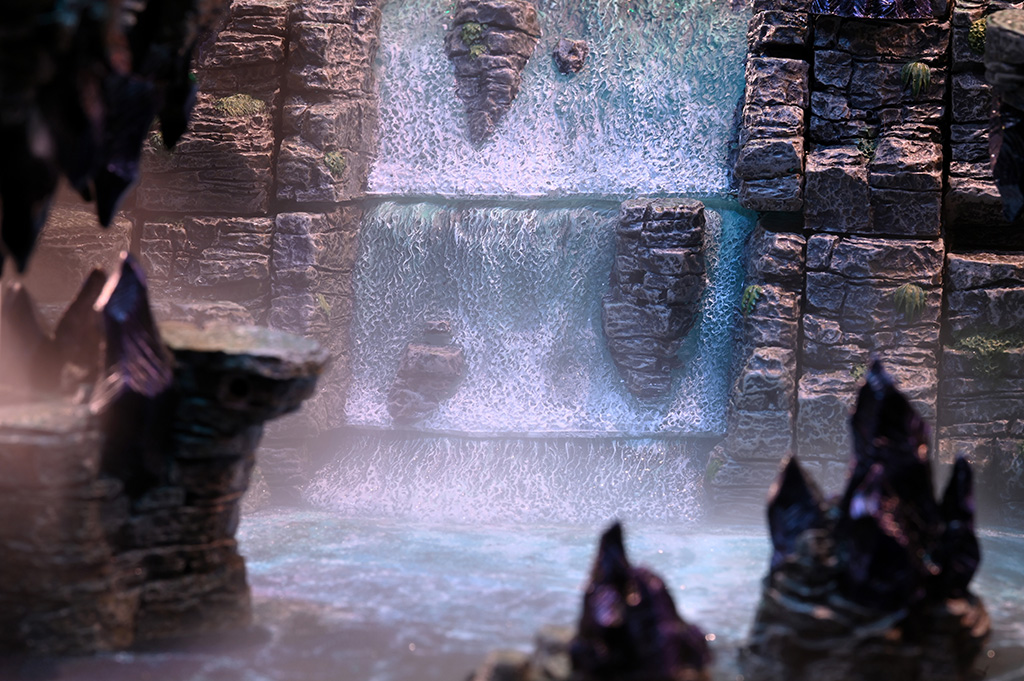 Waterfalls Casting Color
For anyone curious about the casting color of our waterfalls set, we are hoping that the factory can create the aquamarine-like casting color we presented to you in our mock pieces. Unfortunately, we won't know what the final color will be until they actually cast the pieces.
REVISED PAINT Crablily
We've updated the Crablily's paint scheme since the close of the campaign. The new version is slightly more complex and feels more at home in both the Material Plane and the Feywild.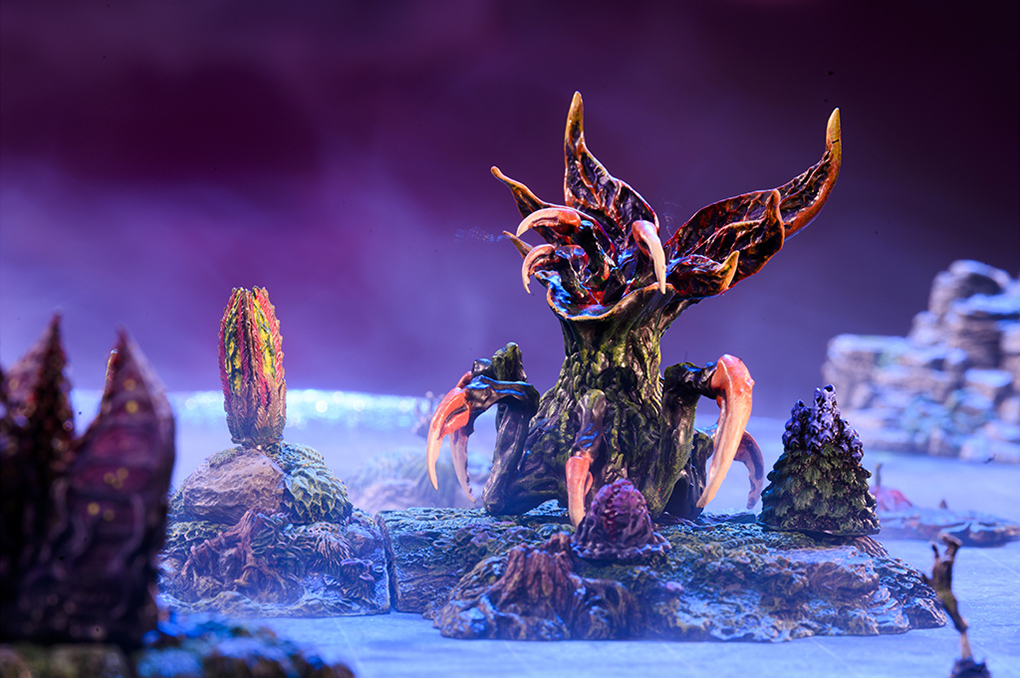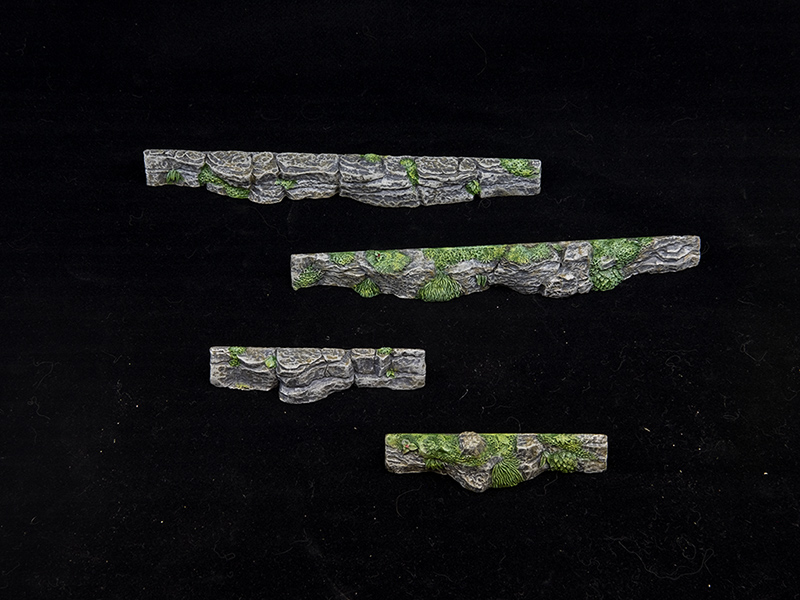 REVISED Trifecta Ledges
Pieces TL-701, TL-702, TL-709, and TL-710 no longer include anchor magnets – pieces are too thin to support them. Also, all ledges will have a simple texture on vertical sides
NEW PAINT – LED Bleakmyre Basilisk / Swamp Basilisk (no LED)
Each version of this creature has its own paint scheme – to better differentiate them. This is especially important to those who will receive them both!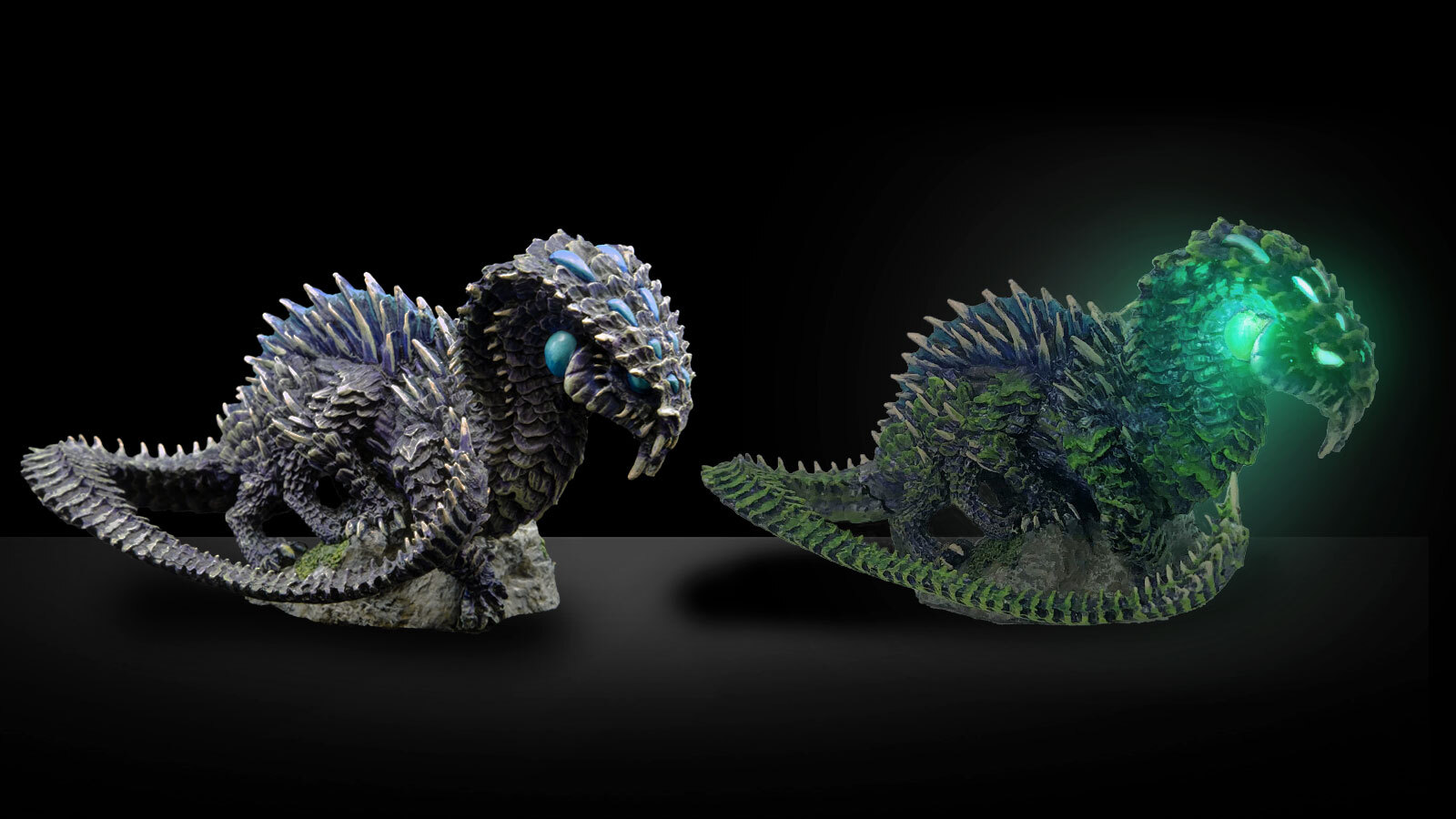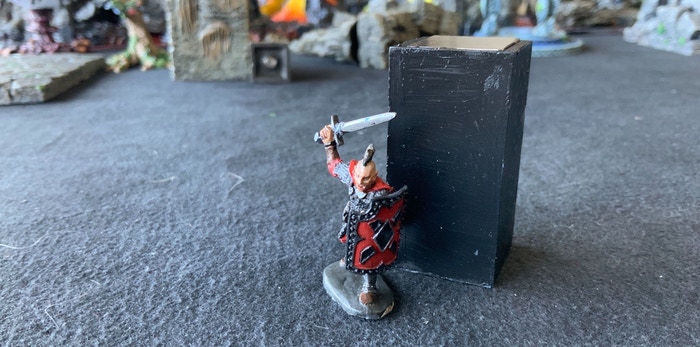 UPDATE 50mm Stilt
We never showed you the new 50mm Stilt during the campaign. So we have a picture of our mock-up below. This smooth, featureless Dwarvenite piece will not be painted. Rather, it will be cast in either black or a dark dungeon gray (depending on our final production run). This piece was made as simple as possible to keep its cost down since its it's almost always completely hidden inside a build.